Eddie Janko

Name:
Eddie Marie Janko
Title:
Police Officer
Profession:
New York City Police Officer
Partner(s):
Jamie Reagan (Crush)
Parents:
Armin Janko
Marital Status:
Single
Played by:
Vanessa Ray
First appearance:
Unwritten Rules (4x01)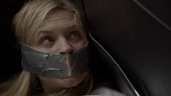 Eddie" Marie Janko' is a New York city police officer and current partner of Jamie Reagan. She replaced Vinny Cruz shortly after his death in The Bitter End. Her badge number is 68921. Eddie's first appearance was "Unwritten Rules" (season 4, episode 1). Since then, there has been a lot of sexual tension between her and her partner Jamie Reagan, who is also the son of the Police Commissioner Frank Reagan.
In Secret Arrangments Jamie was walking Eddie home after going on a double date with Jamie's friend from college and Eddie's friend from high school after Jamie's friend wanted to take Eddie out but Eddie had previous plans with her friend from high school. At the end of the night, they ended up sharing a drunken kiss. The next morning is filled with awkwardness as they tried to unravel the previous nights events, and ultimately blamed the kiss as a case of having too much to drink.
In
Bad Company
we found out that Janko speaks fluent Serbian (due to her mother being born in Serbia) and was therefore picked to go undercover (much to Jamie's hesitance) in an operation headed by
Danny Reagan
,
Maria Beaz
and the FBI as a Serbian immigrant to infiltrate a hostel in order to bring down a sex trafficking ring. Eddie was excited for the opportunity but nonetheless very nervous. Other than a couple scares and a couple panic attacks on Jamie's part, the operation was successful
Eddie is feisty and opinionated about her job and has a hearty appetite which often leads to frequent teasing by her partner Jamie Reagan about her eating habits. She is lovable and tough yet vulnerable and complex
Eddie comes from a privileged background since her father was a financial adviser who made a lot of money. However, that financial well-being ended as it was later revealed that the company that Eddie's father owned was involved in a Ponzi scheme. Her father is serving 8 years at Fort Dix Correctional. She later stated in season 4 episode 10 that longtime associates lost everything and that she hasn't spoken to him in 3 years. Because of her background and also the fact that she is a woman in law enforcement, she has had to work harder to prove that she deserves to be a cop. She is a mix of Serbian and Hungarian descent.
Ad blocker interference detected!
Wikia is a free-to-use site that makes money from advertising. We have a modified experience for viewers using ad blockers

Wikia is not accessible if you've made further modifications. Remove the custom ad blocker rule(s) and the page will load as expected.